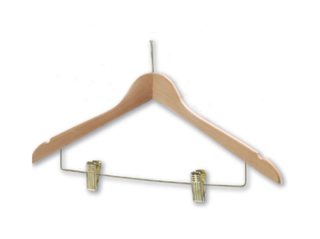 Security coathanger incl. clips
Coathanger incl. skirtclips.
One of a select range of hangers especially for hotels
Anti-theft model
Available in brass or chrome
Suitable for trousers or skirts
excl. security ring. sold separately.
Luxurious 'wishbone' construction and skirt notches
Sold per box of 50 pieces.
440mm (w) x 260mm (h)
4 years guarantee.
Where to find us
de Zaalberg 17
2351 ES Leiderdorp

+31(0)71 5425462
The Netherlands
office@hotelsupplieseurope.com
Business hours
Call us: +31 (0)71 5425462
Monday-Friday: 9am to 5pm
Subscribe to our Newsletter